JULY FIREWORKS START EARLY ON THE FISH TAXI !
July started with a  "Big Bang" for the "Go Big" Team of Adam Fulton (www.jenningsfulton.com) from Las Vegas.  A very very big White Sea, was given a Fish Taxi ride to dinner.

Hot Bass Bite (We love the Bass!)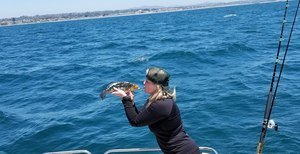 A  little love for the released Mako's too!
Enjoy your Fourth , then Enjoy a day on the Fish Taxi!
God Bless America and those who have served her so!