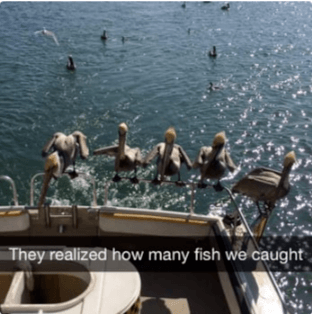 Reviews
Loved my time with Captain Don and First Mate Joe! Hitting the ocean with a couple of experts really made me feel at ease. We caught a ton of Bonita and a Yellowtail. It was especially fantastic when we saw a whale breach twice and then another whale come up and chomp on a bed of kelp! The giant school of dolphins, flying fish, and sea lions were also a big bonus! Who would have known so much adventure was right out our back door!
And oh man, those Bonita put up a nice little fight!
Thanks Captain Don!
`Jason T. | Riverside CA
Took one of my daughters out for her first time fishing the Pacific. We all had a blast and were very pleased with the crew. Very professional and courteous. We got to see a few whales, and catch a bunch of fish. We caught mackerel, bass, bonita, barricuda, and a sting ray. It does cost more than the party boat option but is well worth the cost. We will be back again for sure.
~ Steve P. | Belton TX
We went with a group from work and we had a blast fishing. These guys have it together and provide an exemplary service. Don and Tristen provided one of the best charter fishing services I've ever experienced. I will absolutely be booking more outings with these guys.
~ Daniel P. | La Mirada CA
Took my dad out fishing for his 60th birthday on the Fish Taxi today. We got back an hour early since we hit our limit… Captain Don and First Mate Ryan were extremely knowledgeable, friendly and helpful. Don took us straight to a gold mine where we boated our first three Bass within 10 minutes. Him and Ryan were excellent about making sure we always had a line in the water and didn't spend any time struggling. If we got snagged on a rock or the bottom, one of them had a second line ready for us to go while they worked on fixing the other. By the time we got back to shore, Ryan had already gutted, filleted, and double bagged our fish.
Wonderful experience overall, we can't wait to go again.
~ David M. | Denver CO
I had mini reunion with a group of friends in SoCal so we decided to try something fun: Deep Sea Fishing! We went with the Fish Taxi because it's a private charter. Unlike other boats in the area, the Fish Taxi doesn't book multiple groups at the same time so you have the entire boat to your own party with up to 6 guests. Online booking made it really quick and simple as prices and availabilities are listed.
We met up with Captain Don around 6AM and headed out to sea for about an hour before beginning fishing. The sunrise was beautiful and it was awesome seeing dolphins swimming along the boat. Captain Don kept us entertained and taught us a lot about fishing. We were able to catch some smaller fish and best of all, a Bluefin Tuna!! That means we will have sashimi, sushi, poke, etc for weeks!!
We all had an incredible time on the Fish Taxi. I highly recommend it to anyone looking for an exciting occasion with friends and family while in the area!
T.N. | Corona CA
My 6 year old son and I had a great time with Captain Don for a 4 hour AM fishing trip. The captain had a wonderful way about teaching my son about the boat, fishing, the fish, etc.  The highlight was unexpectedly reeling in a thresher shark even though we were not using tackle for such a feat. My son had a blast catching bait fish (3 on one line) and Calico Bass. He also enjoyed watching the captain filet the fish and the shark.  We also saw dolphins and sea lions on the fishing trip. Captain Don gave us tips for cooking the shark and bass which turned out great. We got to fly the shark flag when coming into port and we donated the shark vertebrae and fin to research.
~ Brigham B. | Fayetteville NY